These are the bonus footage/deleted scenes from The Osbournes episode Bark at the Moon, these are featured on The Osbournes/ The First series DVD.
Bonus Footage
Edit
Precariously Perched Puss
Edit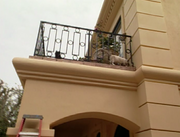 The clip begins with Sharon Osbourne awing at the sight of Puss who was climbing on the edge of the balcony. Sharon goes upstairs to where Puss is and calls for Puss to come to her in fear he'll harm himself. Puss eventually walks to Sharon and she picks him up and takes him away.
Was it someone we hate?
Edit
Sharon begins telling her husband about an incident involving Minnie. She explains that she took Minnie to a meeting she was attending when Minnie ended up having black diarrhea on the floor. Ozzy responds by saying:
"FABULOUS! Was it someone we hate?"
— Ozzy Osbourne
Vietnamese Peasant's Hat
Edit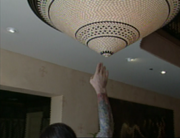 This short exchange involves Ozzy complaining about the light in the main hall saying it looks "oriental" and like a Vietnamese Peasant's Hat. Sharon disagrees and tries to get someone elses advice, he agrees with Ozzy to Sharon's dismay.
The clip Vietnamese Peasant's Hat features the first appearance of Ozzy's eldest child Louis Osbourne, had it been shown in the actual episode.