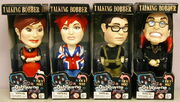 The Osbournes Talking Bobber was a set of bobble head merchandise involving the Osbourne family as a tie in with the series. The bobble heads were some of the only toys released for the show.
Features
Edit
The bobble heads are like any other bobble head toy, they have a stationary body with a wobbly head connected by a spring. The bobble heads have a small sound system implanted inside which sprouts out some of the Osbournes favourite quotations. There were four bobble heads to accompany each Osbourne that appeared in the show, Ozzy, Sharon, Jack and Kelly Osbourne.
The Ozzy bobbler appears in almost every episode in Series 2 and appears in Series 3 and 4 in a few episodes.
Ad blocker interference detected!
Wikia is a free-to-use site that makes money from advertising. We have a modified experience for viewers using ad blockers

Wikia is not accessible if you've made further modifications. Remove the custom ad blocker rule(s) and the page will load as expected.